INTERNATIONAL CARGO TRANSPORTATION FROM USA. TRANSPORT FROM USA BY SEA IN RESPECT OF DEALING WITH U.S. FREIGHT FORWARDERS
Calculate INSTANT Price Quote on shipping from the USA cargo in boxes, crates or pallets
International cargo transportation from the USA is an essential part of the logistics chain on delivery goods from the USA overseas. This Real-time Freight Calculator is designed to manage deliveries of products from the USA remotely, virtually from any location in the world. It perfectly works on transportation commercial cargo and on shipping household goods and personal effects from the USA by sea. Watch the video on YouTube how easy it is.
To avoid fraud in the international cargo transportation industry, the United States Government strictly regulates and controls such activities. In the United States, any company that provides foreign cargo transportation service must be licensed and bonded.
If it you are shipping from the USA a considerably sizable cargo, then AMID Logistics (American Multimodal International Deliveries) is here to support your cargo transportation needs. AMID Logistics is a licensed and bonded U.S. Freight Forwarder - U.S. Ocean Transportation Intermediary. Our business is international cargo deliveries from the USA overseas by the sea for different purposes, no matter either you are shipping from USA commercial freight or personal goods. Our primary business is LCL freight (Less than Container Load) shipping from the USA to all over the world.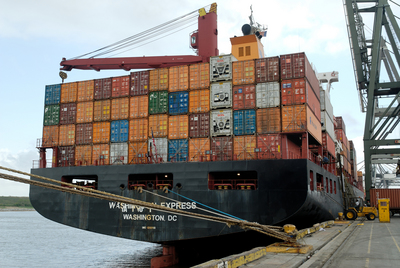 Do not confuse services provided on cargo transportation from the USA by sea. First of all, it depends on the size of cargo that you are shipping from USA, cargo transportation arrangement and modes of transportation. In general, it falls into three categories:
Parcel service

International moving companies
Dealing with U.S. Freight Forwarders on shipping from USA different types of cargo, shippers should understand Freight Forwarders responsibilities during the cargo transportation. Freight Forwarders support, assist and manage international shipments. However only shippers and consignees are held responsible for cargo packing, proper export, and import shipping documentation, customs formalities and all charges and fees that are beyond the scope of freight.
First-time international shippers should read this article, related to shipping from USA LCL freight.
International transportation business throughout the world is regulated by a variety of global international ocean freight industry
When dealing with a U.S. Freight Forwarder on shipping ocean freight from the USA, the shipper should also be prepared to deal directly with other parties related to the shipping. It can be ocean freight carrier's agent, which may handle cargo recoveries on shippers behalf as soon as cargo arrives at destinations, customs, any particular organizations if a load is under their supervision, local transportation companies, etc.
Information about international ocean freight carriers agents should be available:
COMMON PHASES IN CARGO TRANSPORTATION FROM USA BY SEA
International shippers should understand and keep in mind these three common phases in any global cargo transportation cycles. Each phase during transportation cycles corresponds with charges related to the phase. In other words, you should understand what is included in regular sea freight quotes on international cargo transportation from the USA by sea. I.e., always remember about destination charges.
I. ORIGIN - CARGO IS AT THE ORIGIN - CHARGES AND FEES TYPICALLY INCLUDED IN FREIGHT QUOTE:
Cargo Pickup and delivery Ocean freight carrier's terminal (called CFS - Container Freight Station OR self-delivery to the CFS by the shipper.

Origin country's customs formalities.

Cargo handling at the CFS; transfer to the seaport of departure; export documents turnover and release to sail.
II. INTERNATIONAL OCEAN FREIGHT - CARGO IS IN TRANSIT (SAILING FROM USA) - INCLUDED IN FREIGHT QUOTE:
III. DESTINATION - CARGO IS ENTERED IN COMMERCE ZONE OF THE DESTINATION COUNTRY - NOT INCLUDED IN FREIGHT QUOTE (DESTINATION CHARGES):
Cargo entree to the destination; international ocean freight carriers/carrier's destination agent messaging; handling of cargo at the port of entree and documents turnover.

Completing destination customs formalities to obtain customs release, i.e., entree filing; assessing customs duty, taxes (if any) and other applicable destination country's governments' related charges.

Delivery of cargo to the final destination terminal (the terminal is not a seaport of entree itself); handling the load at the terminal; documents turnover and to obtaining the terminal release.

Cargo delivery to assigned by consignee place (called "to door"), if not self-picked up from the final destination terminal.
You may fina d more complete and comprehensive explanation about international shipping procedures in respect of dealing with a U.S. Freight Forwarder in FAQ sections of our website:
Different Modes of Cargo Transportation from the USA by Sea
For your convenience we have separated our U.S. Real-time Online Seafreight Calculators by sub-domains for different modes of cargo transportation from the USA:
* In respect of international shipping, motor vehicles mean vehicles such as cars, motorcycles, boats, jet ski, etc. that require registration with the Department of Motor Vehicles (DMV).